If you have an outdoor dining area and looking for the right furniture, there are a few things you can consider to ensure the quality. You should also select furniture that matches the style you are looking for.
It is important to check the size of outdoor dining furniture especially if you have an outdoor space like a patio or deck with limited space. There are so many different sizes for dining tables and also chairs so you need to be very clear about what you are buying. You should have an idea of how many people can be accommodated in the outdoor dining area. There has to be sufficient space to go around the table even when people are already seated. So you need to take into account circulation space as well. To get an idea of this, you can check how much circulation space has been provided for your indoor dining space and whether that is sufficient. But to be sure of the dimensions, you can mark the boundaries of the table and the chairs on the floor to see whether you can move around. This is a great way of visualizing what your new furniture will look like in the space.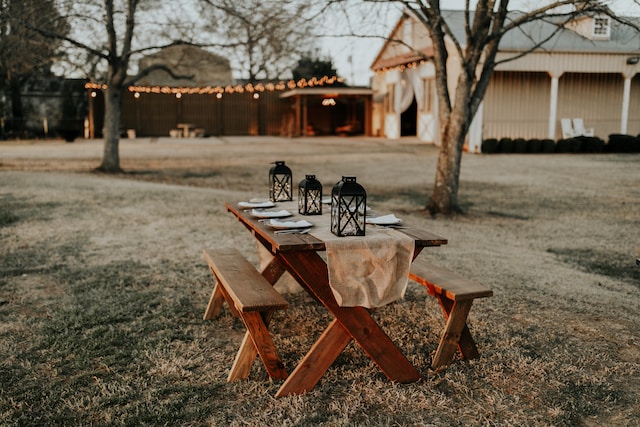 You need to choose the right material for the outdoor dining set as well.
Some materials you can choose from are wicker, plastic, metal and wood. Wood has a classic appearance but will need a bit more maintenance than the rest. However, it is very durable. Metal and plastic will also be durable. And if you are looking for a lightweight material, especially for the dining chairs, you can consider wicker. This is stylish and can be easily moved around. But it tends to be less durable than others. You need to check whether the material you choose can withstand the climatic conditions in your location. Choosing weather resistant materials is very important and in addition, look for materials that are resistant to rust and fading.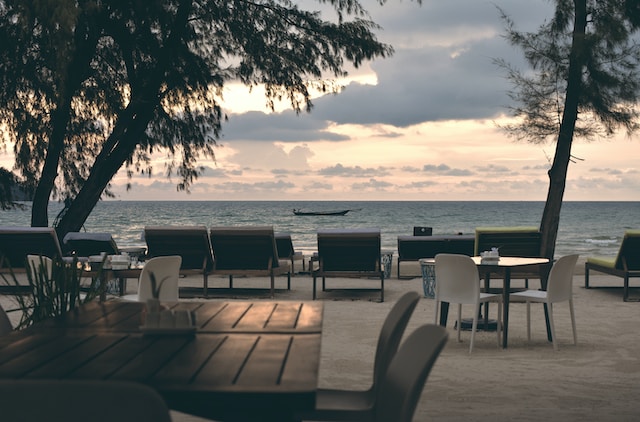 Outdoor dining areas should be comfortable and you may spend a bit more time here than you would normally. For example, if you are hosting a dinner or lunch your guest will enjoy some time outside. But to accommodate this, you need to make sure that the chairs are comfortable to sit on for a long time. You can also add seat pads or cushions to increase comfort. It is also important to choose a style that matches the aesthetics of your home so that everything flows together perfectly.  And as outdoor furniture tends to be more exposed to dust and grime, you will find it easier if you select a dining set that comes with low maintenance. You can select materials that are easy to maintain. And look for a way of storing this in the off-season as well because this will help protect the furniture against the worst of the weather. Check for chairs that can be stacked on top of each other and removable cushions that can be cleaned easily.